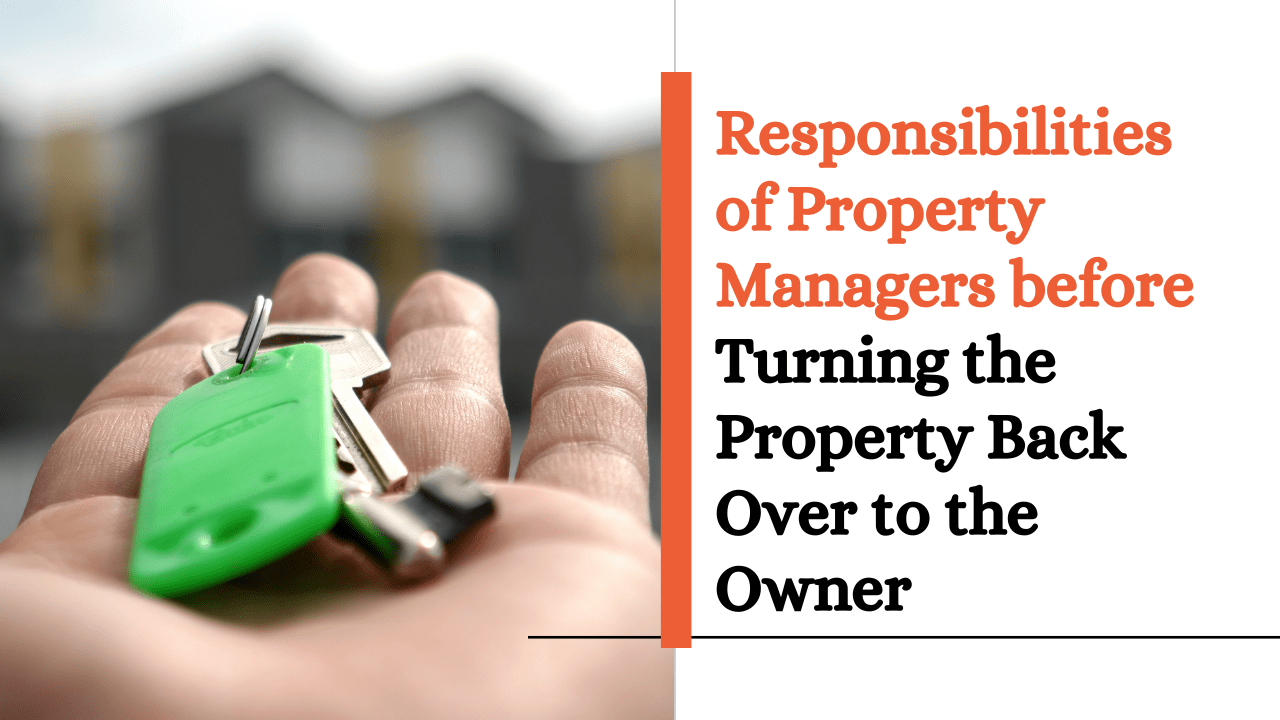 When you are ready to cancel your management agreement and take possession of your rental property back from your property manager, you can expect a few things to happen.
First, make sure communication is open, transparent, and responsive. There's likely to be a lot of back and forth between you and your management company. In order to keep the process moving, make sure you answer questions and provide any information that's needed. Make sure your property manager has all of your updated contact information. When you work together, the transition can be seamless and efficient.
We are always sad to see our owners and investors leave us for new opportunities. But, we're appreciative of the time we've spent managing your property, and we're excited about whatever is coming next for you. When you decide to cease having your property managed by us, we're going to do everything we can to set you up for success once we hand over the property, the tenants, and the keys to your investment home.
Here are some of the most important responsibilities of your property manager.
Taking Care of the Tenant
Most of our owners cancel their management agreement because they're selling the rental property or moving back into it themselves. However, some of our owners plan to continue renting the home out. Either they're going to manage on their own or they've identified another management company that they believe can best meet their needs.
When a tenant is still in place, you should expect your property manager to turn over all the documentation that pertains to your tenant and your property. This will include:
The lease agreement
Maintenance and repair records
Accounting records and reports
Copies of communication
Copies of any notices or forms
Security deposit funds
You'll want to talk to your property manager about what to expect. Is this a tenant who pays on time every month? Do they have pets? Are they likely to leave maintenance unreported or do they let you know about every little thing that needs attention? This will help you manage your expectations for the tenant.
If a tenant has moved out or is in the process of moving out, you can expect your property manager to communicate the move-out process with your tenant. Then, your management company should conduct the move-in inspection, provide you with the inspection report as well as any photos or videos, and leave you to decide how to move forward with repairs, cleaning, and the return of the security deposit.
Conducting a Move-Out Inspection
As your tenant moves out, you can expect your property manager to conduct the inspection and provide you with an estimate for the work that needs to be done. Your manager should identify the wear and tear items and how they differ from the damage caused by tenants. This will help you decide how to handle the security deposit.
Even if your management company is conducting the inspection for you, you'll need to know what to look for after your tenants move out and you're inspecting the home for damage.
The first thing on your checklist is to evaluate the cleanliness of the home. It should be in the same clean condition that it was when your tenants took possession. Your lease agreement might require your tenants to have the home professionally cleaned or the carpets steam-cleaned before they move out. Check to see if that's been done.
Whether you're moving back into the home yourself, renting it to new tenants, or putting the property up for sale, you're going to want to make sure it's thoroughly cleaned.
Next, look for damage. Make sure you understand the difference between damage and wear and tear. As a landlord, you're responsible for the general wear and tear of the property. Those nail holes in the walls from where pictures were hung or scuffs from where furniture rested are your responsibility to repair and restore. Tenant damage is anything beyond that, due to the abuse, misuse, or neglect of the home. A broken window or screen or appliances that are dented are examples of damage.
Ask your property manager for a copy of the move-in condition report so you can compare how the home looked at the start of the lease to how it looks now.
Financial Matters: Settling the Security Deposit
Under Portland security deposit law, a landlord must return the tenant's security deposit within 31 days of the tenant vacating the property. If you miss the deadline, you can be held accountable for fines and penalties that exceed the amount of the deposit itself.
When you return the full deposit, do it without delay. If you're going to keep some of the money to pay for things like cleaning and damage, make sure you provide a complete itemization of each charge so the tenants know why. Include copies of invoices for the work. This careful attention to detail will help you avoid disputes and tenant court claims.
Every now and then, there's a worst case scenario, where the amount of the security deposit doesn't cover the full amount of the damages that the tenant left behind. In this case, you'll need to try and collect the remaining balance from your tenants. Hopefully, that doesn't happen. If your property manager did a good job screening and inspecting, you should be in good shape.
You're also required to provide your tenants with a Notice of Rights relating to their security deposit. If you're not sure how to do this, ask for help from your property manager. And remember that you can only deduct from the deposit the amount that's going to reimburse the cost of repairing your home.
These are some of the things you can expect your property manager to take care of during the transitional period where you're moving from professional management to something else.
If you have any questions about this or anything pertaining to Portland property management, please contact us at PropM, Inc.