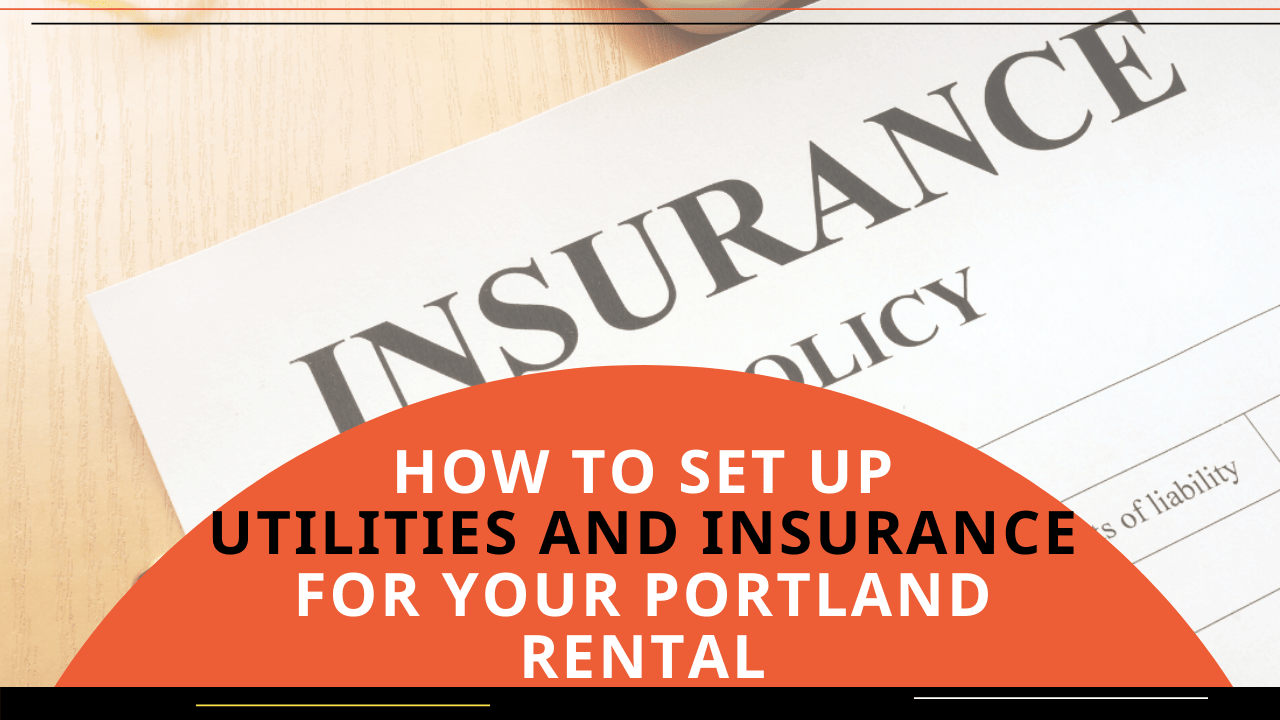 At Prop, Inc, we've been talking to new tenants about the things they need to do when they're preparing to move into their rental home. We know this can be a stressful and overwhelming time, and we want to provide as much support and help as we can to ensure you have a successful and pleasant rental experience.
You'll find our Portland property managers and leasing agents available to you seven days a week, 365 days a year. Do not hesitate to ask questions and request resources. You'll find an abundance of information on our website, especially in the dedicated tenant section. If you can't find the answer you need, give us a call or get in touch. We're responsive and ready to help.
Today, we want to focus specifically on your renter's insurance and your utility accounts. These are things you need to have in order before you begin your lease with us.
Before moving in, make sure you have your insurance in place and your utility accounts all set up in your name.
Renter's Insurance Protects Your Personal Possessions
Renter's insurance is an important tool in protecting your personal possessions and keeping you from being held liable for anything that happens at the home. As we explained before you even applied for your rental property, the insurance is inexpensive and it covers your personal possessions as well as your liability. Having a renter's insurance policy is in everyone's best interests. You can expect more peace of mind during the tenancy, and you'll have an easy time replacing your laptop or your television if there's a flood, fire, or other catastrophes. We will also ask for proof of your renter's insurance.
Renters insurance is something that's easy for most tenants to buy, and most of the tenants we work with purchase their policies willingly. A comprehensive policy costs $10 to $15 a month, and if you bundle it with your existing auto insurance policy, you can usually save even more money.
Without renters insurance, you won't have any protection if there is damage to your personal possessions. Your landlord's insurance policy will cover the structure of the home and the systems inside of it only. Your personal belongings are not covered. So, if there is a fire or a flood at the property and electronics such as televisions and computers get damaged, your landlord's insurance will pay for the property damage, but your own items will be uncovered. A comprehensive renter's insurance policy will provide the money that's required to repair or replace the items that were lost.
Portland Renter's Insurance and Liability
There's also the matter of liability. No one wants to be sued. No one wants to be held personally responsible for the cost of repairing or replacing a home that you are renting.
We know you're careful and we know you're safe. However, unexpected things can happen to even the most cautious and well-meaning tenants. There's no good reason to take on the extra liability and risk that comes with renting a home without insurance.
Here's an example. You are cooking your favorite pasta dish and you leave a pan on the stove with the burner still hot. Maybe you forget to turn the stove off because it's one of those days where everything seems to be happening at once.
If you forget about that pan and a fire starts in the kitchen, the damage can be expensive. Your landlord's insurance company may cover the damage, but it's likely that they'll come after you for a settlement to pay for that damage.
With a renter's insurance policy in place, you'll be able to file a claim through your own insurance, thus protecting you and your finances against any claims made by the landlord or the landlord's insurance company. You need to keep yourself and your finances protected.
Finding the Right Renter's Insurance
Most of our tenants have a company in mind when they need renter's insurance. You may already have a policy at your current residence and you'll simply make the required updates to cover your new rental home and to add your Portland property management company as an additional insured. A lot of our tenants will simply add the renter's insurance coverage to their existing car insurance.
If you need a referral or a recommendation, don't hesitate to ask us for help. We have a lot of excellent relationships with professional companies and agents in the Portland Metropolitan Area. There are also several insurance companies that specialize in providing renters insurance to tenants who are renting single-family homes or apartments in multi-family buildings.
We need to be added as an additional insured so that everyone is covered in the event of a loss or a liability issue like the hypothetical kitchen fire we mentioned earlier. It allows us to keep track of the policy and its coverage as well.
Almost all landlords and property managers are requiring renter's insurance as a part of their lease agreement. This is not an unusual request and most importantly, it's in your own best interest.
Turning On the Utilities in Your Portland Rental Home
You don't want to be moving in without electricity, so make sure your utility accounts are set up and in your name before you move into your home. As you're making your calls and scheduling your service, make sure you're prioritizing correctly. Everyone is anxious to have their internet working, but your electricity and gas and water should come first.
New tenants can find a lot of resources on our website when it comes to utility companies and how to establish accounts. When you log on and check the "Tenants" tab, you'll find an entire section dedicated to your utilities and how they work. There, you'll find information about garbage service and water services in the Portland Metropolitan Area. There's a ton of information about how to have a successful rental experience for new and existing tenants. You'll find tools, resources, and lots of helpful advice.
Be smart when it comes to managing your utilities. We know that you want to keep your costs down when it comes to monthly bills, so set your thermostat accordingly. Don't over-cool or overheat the house, especially when you're not there. Set it and forget it is the rule that's often applied when it comes to conserving energy and reducing utility bills. Program your temperature to a reasonable level and then keep it there.
A number of other preventative measures can be taken to ensure you're not spending more than you have to on utilities. Changing your air filters regularly will contribute to healthier air inside your home and it will also reduce the likelihood that you'll run into repair issues. You can also expect to keep your energy bills down when you're taking preventative measures like making filter changes.
Check for water leaks frequently. A leaky faucet can add up to huge water bills, and sometimes people don't even realize they have a leak until they get a water bill for hundreds of dollars. We recommend that you routinely check under sinks and behind toilets and in tubs for evidence of water intrusion. Fill out a maintenance request if you notice or suspect a problem with water.
We are your Portland property management solution when it comes to an easy move-in process. If you have any questions or need any help, please contact our team at PropM, Inc.