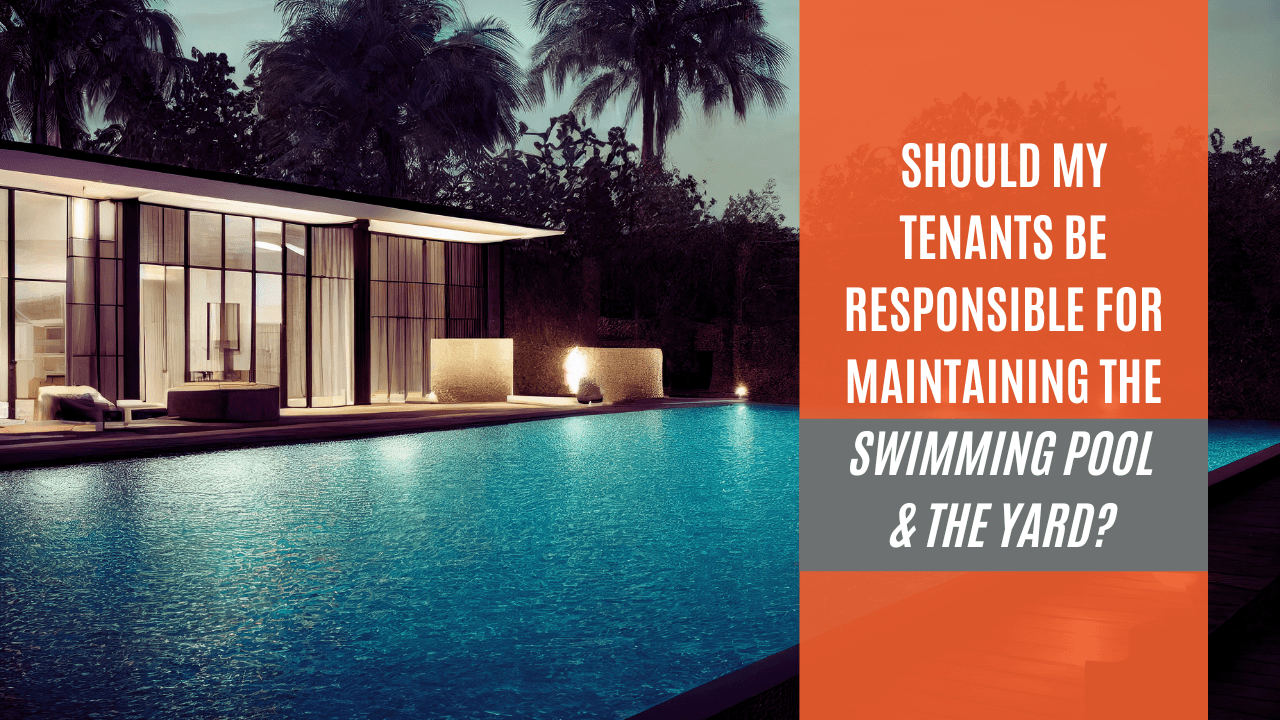 Have you thought much about the yard at your Portland rental property? If you have a pool, who is responsible for cleaning it? What happens if the chemical balance is off?
When we think about rental properties in Portland, we have to think about the landscaping responsibilities. A lot of rental homes have pools and spas, and there's a lot of maintenance and liability involved with those amenities.
Will this be a responsibility for your renters or will you take care of pool and yard maintenance?
Whatever you decide, make sure it's clearly stated in the lease agreement. Talk to your tenants about what you expect before they move in so there's no confusion or danger.
As a Portland property management company, we've handled yard work and pool maintenance in a variety of different ways. If you're unsure about who should hold these responsibilities, here are a few ways to handle it at your rental property.
Pools and Portland Property Management
Offering a pool with your property is a great way to attract tenants and increase your rental value. As summers grow hotter, a lot of residents are looking for ways to cool off. A backyard pool is desirable to many residents.
But, who will take care of it while tenants are in your house? There are two specific issues to think about; safety and cleaning/maintenance.
Pool safety is extremely important, especially if you have tenants in place with children. You'll need a fence around your pool, and in addition to the fence, make sure you've installed safety features such as pool covers and alarms on doors that lead directly to the pool area. You want to meet all legal requirements for safety before you rent out a home with a pool. Increase your insurance to cover any extra liability that comes with providing pools and hot tubs.
Hire Professional Pool Cleaners
Your tenants may be willing to care for the pool on their own, but that's rarely going to be the best idea. We recommend that you don't leave tenants responsible for caring for the pool. Make it your job as the owner of the property to ensure the pool is clean and maintained.
There's a lot of risk involved in leaving your tenants to clean and maintain the pool. They may not do a good job, and then you end up with a pool that's neglected and equipment that's broken. This will cost you a lot more than professional pool cleaners. You also don't want them mixing pool chemicals. What if they burn themselves or ingest something they shouldn't? It's a lot of liability that you do not need as an investor and landlord.
Use a professional pool vendor with the appropriate licensures and insurance. If you get on a recurring service plan where they routinely clean the pool, inspect the structure, and test the water composition, you can save some money. This will be expensive, but consider having your tenants contribute to the costs. It's not unheard of to roll the cost of pool care into the monthly rent.
Maintaining Your Rental Property's Yard
You could make all the lawn care and landscaping your tenant's responsibility.
Or, you could keep the yard maintenance to yourself.
It really depends on a number of things. Do your tenants want to care for the yard? Are you particular about how the yard looks? Is your property in an HOA with its own landscaping standards?
Here are your choices, as most Portland property management companies see it:
Yard as a Tenant Responsibility
Some tenants are excited about mowing and weeding and pruning and fussing. Asking tenants to take care of the lawn is more reasonable if you're renting out a single-family home and your tenants are looking for an experience that's similar to owning a home. They'll take charge of the yard and be willing to keep it looking good.
This is something to discuss during the lease signing stages. If tenants express interest in taking over the lawn care and landscaping and you aren't terribly invested in how the outside of your home looks, you might want to try it. If they fall behind on the mowing or things just don't look good, you can always suggest something different.
When tenants are responsible for lawn care, they also have the option of hiring their own lawn professionals to mow and care for the grounds. Just because the lease holds them responsible doesn't mean that they have to physically go out there and mow the lawn. You're empowering them to find their own landscaper or gardener to take care of things for them.
Yard as a Landlord Responsibility
Some owners want to keep control of the landscaping and lawn care. If you have high standards that you know your tenants are unlikely to meet, make this part of your to-do list.
How you do it is up to you. If you're a local landlord who loves to spend time on lawns and landscaping, you could do the work yourself. That's not always the best option for your tenants, however. They might not love having their landlord at their property every week. It could feel like their privacy is being invaded.
So you could also hire your own team to go to the property weekly or monthly, depending on your property's unique needs, to mow and take care of the garden and lawn. This is not uncommon and when you contract with a lawn service, you'll often find the work is reliable, affordable, and easy to roll into your budget. You can pay for it yourself or you can include the cost of yard care in the rent.
In Oregon, the grass will need regular attention throughout the spring and summer, and even into the fall. If you hire professionals to care for the landscaping at your rental property, you'll ensure that your standards are met. Tenants who don't want any lawn responsibilities will be attracted to this setup as well. You can always build the monthly landscaping charges into the rental amount to keep your own costs down.
Consider Portland HOA Requirements for Yards and Pools
Many of the Portland rental properties on the market today are in HOAs or community associations. This will give you more to think about as you decide who should be responsible for the landscaping and lawn care at your property.
HOAs are notoriously strict when it comes to their rules and regulations, especially about the condition of a property's exterior. They'll provide specific requirements around any private pools. They'll also tell you what the lawn should look like. This is all in pursuit of the highest possible property values for their homeowners. When it comes to lawns and keeping the property exteriors clean, attractive, and uniform, the rules can get especially strict.
You may face penalties and fees if your lawn becomes overgrown. When there is weeding that needs to be done, bushes that are overgrown, or trees that grow to the point that they're obstructing windows and walkways, the HOA is likely to notice.
As the homeowner, you will be the party who receives the notice and is charged a fee, if there is one.
This is another good argument for maintaining control over lawn care and landscaping at your rental property. You'll have less to worry about in terms of HOA violations and potential penalties.
Always include HOA rules and regulations in your lease agreement so your tenants understand what's required of them. Whether you take care of the landscaping or your tenant does it, your renters need to know that the HOA has standards that must be met. Not only does the lawn need to look good, but there are also likely restrictions about signs that can be posted, décor that can be displayed, etc. Tenants need this information.
Include Yard and Pool Responsibilities in the Lease Agreement
As you can see, there are plenty of options when it comes to how you handle the yard work at your rental property. With pools, you want to keep it out of the hands of tenants.
However you structure this for your own property, make sure you include the lawn and garden maintenance in your lease agreement. Be specific about how it will be handled and who is responsible for overseeing its care. You'll want to be absolutely sure your tenants understand how you want this handled. You don't want your tenants to assume it's not their responsibility, and you also don't want your tenants to be out there with a lawn mower if you're already paying for a professional service.
You need to reference expectations, responsibilities, and requirements around the pool, too. The lease should be clear on who is allowed to use it and what the tenants need to do to follow safety requirements.
One good way to take care of any confusion is by working with a Portland property management company. We can take a look at the property you're renting out and make a recommendation based on what type of home it is, where it's located, and how much work is likely necessary to keep the lawn in good shape and the pool safe.
We also have relationships in place with pool companies and landscaping vendors, and we're happy to share those with you.
Contact us at PropM. We're open 365 days a year and seven days a week, and we're happy to help you.